HR Guide To Gain Leadership Buy-In
It's important for executives to clearly see the alignment between HR's strategic position and organizational outcomes. Our goal is to equip HR leaders with research proven data to show the return on investment (ROI) of their engagement strategies to gain executive buy-in and move their initiatives forward.
We know your time is precious, so we don't just want to tell you
why
the
ROI
Analysis is useful or
what
to do with it. We also want to walk you through
how
to use it so you're prepared for any meeting.
On this page, you'll find the resources and information to equip you with:
How to complete the

ROI

Analysis.
How to understand the research and data.
How to present the findings to executives.
How to complete each of the calculations.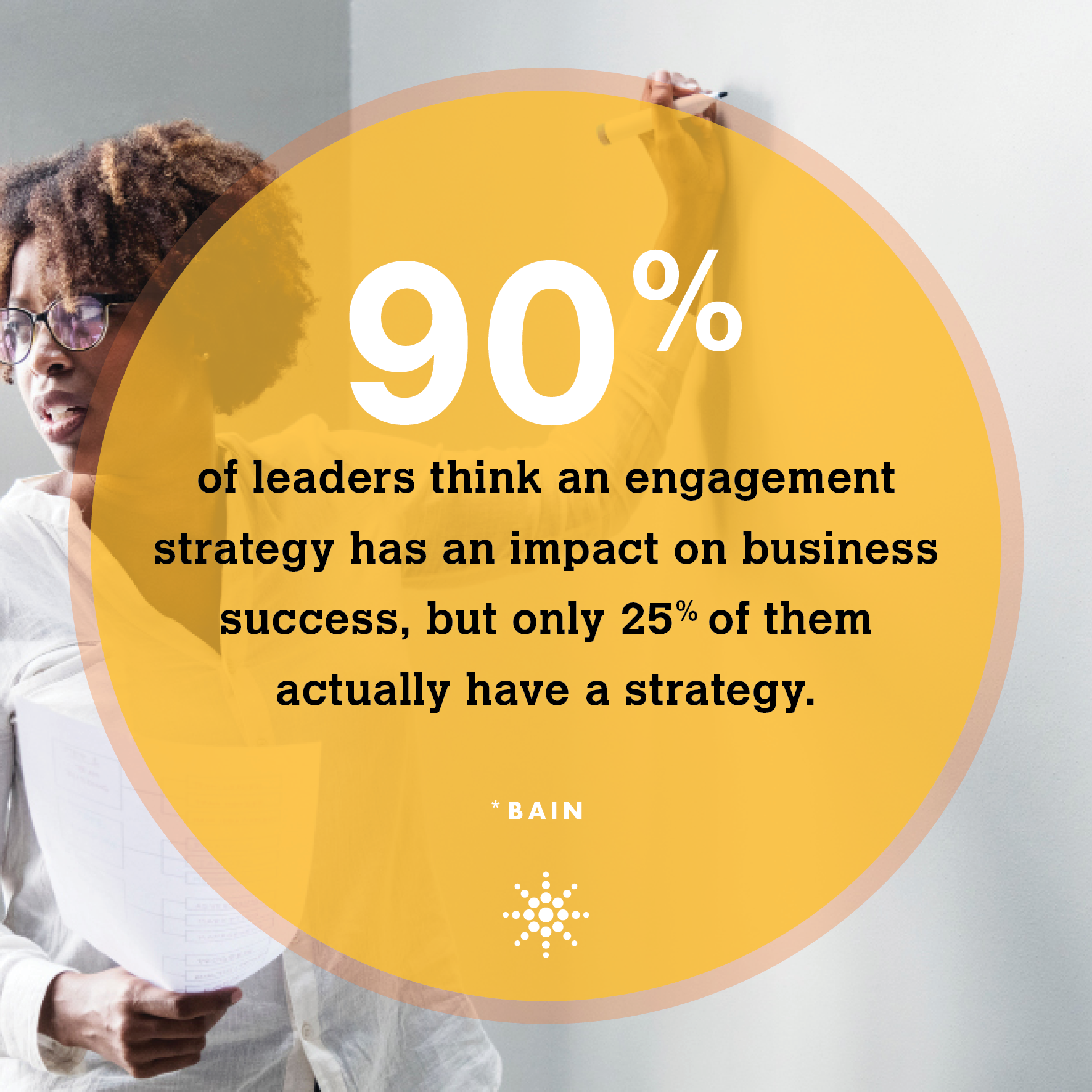 The role of Human Resources (HR) has changed drastically in the past few decades, transitioning from administrative in nature to a very important and strategic role at the table. The closer that HR and the organization's overall business strategies align, the more competitive companies can be when anticipating and responding to changes in the market.
The first step to aligning business strategies is to secure executive buy-in and show the correlation between HR initiatives and the company's bottom line.
Did you know that 90% of leaders think an engagement strategy has an impact on business success, but only 25% of them actually have a strategy?
That's why we created the Employee Engagement ROI Analysis, to help HR leaders easily initiate the conversation and show the financial upsides to help move engagement strategies forward.
Step 1: Download Your ROI ANALYSIS
If you haven't already, make sure to download your FREE ROI Analysis to receive the tools you need to gain executive buy-in! You'll receive:
A branded one-page ROI Analysis to easily customize and present your results.
A Reference Page highlighting all calculations and research sources.
A Sparck Engagement Calculator to personalize results based on your company or department data.
The ROI Analysis isn't just a tool to gain buy-in for an organizational strategy, it can also be used to evaluate different departments and teams to see how an increase in employee engagement can impact their business performance. The opportunities are endless when it comes to engagement and should touch every part of your organization to get the greatest return on investment.
Step 2: Choose Your Own Adventure
Here are three options for you to quickly capture the information you want:
If you're the visual type and are short on time, we have a short video, that will introduce you to the ROI Analysis and walk you through how to use the Calculator.
Click HERE for a brief overview of the ROI Analysis.
If you're really short on time, no worries! Click HERE and we'll prepare an ROI Analysis for you. We can set up a time to personally walk you through the results at your convenience.
Great! Keep scrolling and this toolkit will walk you through the ROI Analysis. We'll give you an overview, break down each of the sections with an executive summary, and provide links to more detailed calculation explanations.
Let's get started!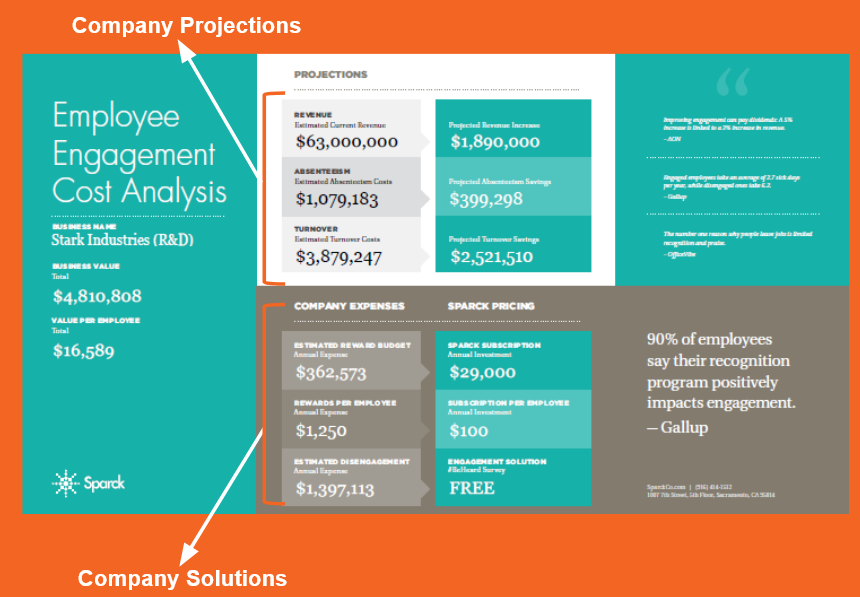 The ROI Analysis is designed to:
Help you and other business leaders get executive buy-in to invest in engagement strategies.

Create alignment between HR related initiatives and organizational outcomes.
As we noted before, the ROI Analysis isn't just a tool for an organizational strategy. It can also be used to evaluate different departments and teams to see how an increase in employee engagement can impact their business performance. The opportunities are endless when it comes to engagement and should touch every part of your organization for the greatest return on investment.
For the remainder of this page, we'll walk through each area of the ROI Analysis to ensure you are prepared and ready to gain executive buy-in. The ROI Analysis is separated into two main sections that we will review: Company Projections and Company Solutions (as noted on the left).
Sparck Calculator Overview
This calculator is a tool to help you determine the financial numbers you need to complete your ROI Analysis Overview (see section above).
The first step is inputting your company data into the yellow fields (highlighted in the orange box on the right):
Turnover Rate (if you don't have this, we've got you covered)
Annual Revenue
Number of Employees
Average Salary (Entry and Executive Levels)
Once you input your data, the calculations will automatically populate! The values will display in the blue boxes below, each titled section directly correlates with the fields on the ROI Analysis so you can easily transfer them over. Learn more about the features of the Sparck Calculator by clicking the button below!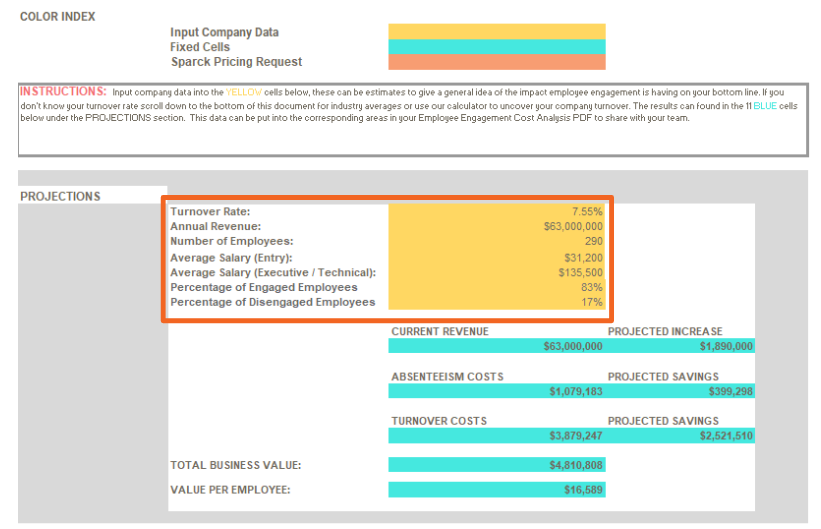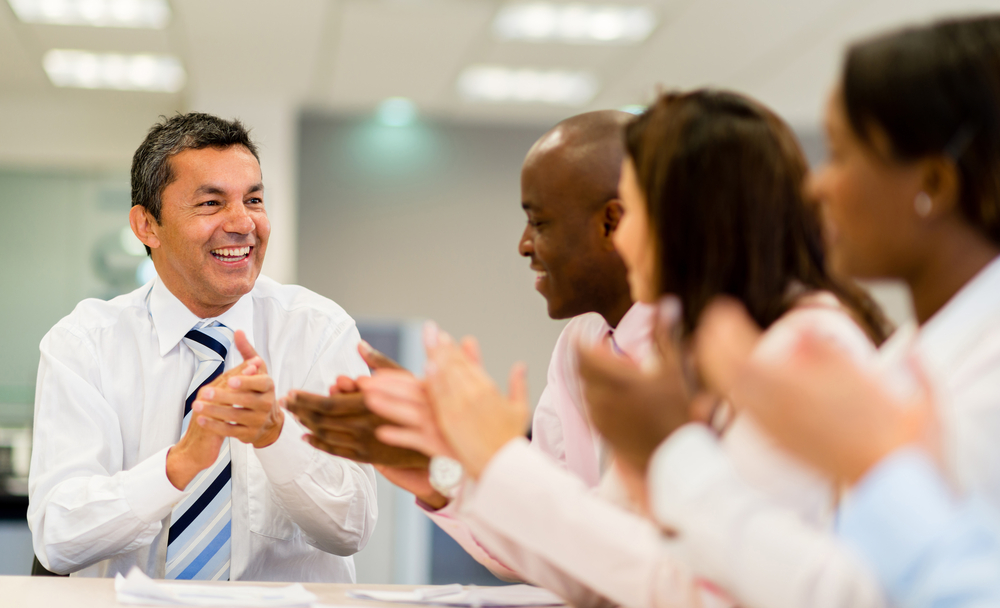 Executive Team Presentations
So now that you have your ROI Analysis results, it's time to present to your executive team and get their buy-in.
Check out some of our recommendations and best practices to rock your meeting. If you want more information, we are here to help! Set up a call with one of our Sparck partners to review your results and equip you with our complimentary resources.
Here's a video walking through the ROI Analysis and research at a high level to help with presenting in an executive meeting.

Here at Sparck, we're very invested in people analytics and actionable insights, but we know a lot of data can be overwhelming. So if you have any questions or would like to walk through your unique results in preparation for an upcoming meeting or purely to get a better understanding, we'd be thrilled to chat. Just let us know how we can best support you to increase employee engagement in your workplace, we're here to help!
We put together this Resource Page to help you prepare for your executive meeting! We recommend taking some time to go through the different sections of the ROI Analysis so you're able to speak to the numbers and research at a high level for best results.
We've included Executive Overviews on this page, but you're welcome to dive deeper into the research and calculations if you wish!
Now that you have buy-in, taking action is most important. There is a huge financial upside, so introducing your engagement solutions, like the #BeHeard Survey, after you present the ROI Analysis to your executive team is critical to move forward and secure buy-in.
The Free Report will help you get a pulse on how passionate your employees feel and identify what percentage of your workforce is actually disengaged. You will always have the option to upgrade to the Premium Report if you want to pull back the layers and get actionable insights for your organization and management teams. We wanted to give you options, depending on your needs and goals.
Click HERE to download a PDF comparison of the Free and Premium Report.
Want to learn more about introducing the #BeHeard Survey to your executive team, check out our #BeHeard Toolkit!
What Our Clients Are Saying

"Sparck's free Employee Engagement ROI Analysis tool was an easy and effective way to communicate how an increase in engagement can directly impact our company's performance. The customized one-page overview was a great addition to the executive meeting and gave us a way to look at our specific numbers and outline a solution. I highly recommend this tool to HR professionals who are mapping out their internal strategies and want to upgrade to the #BeHeard Premium Report."
Jennifer Hureaux, HR Manager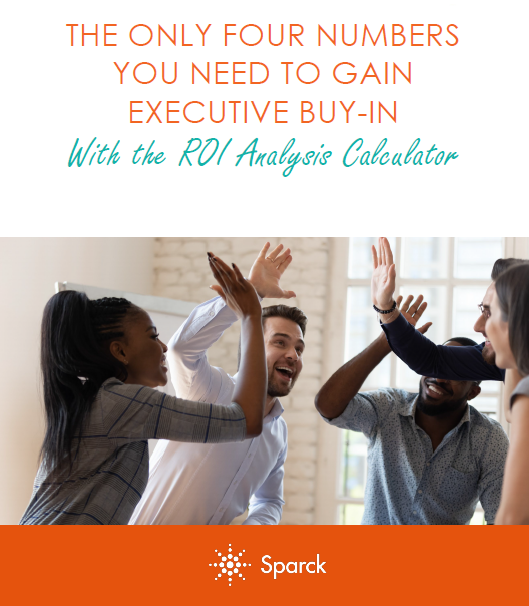 We know you're busy and there's a lot of information to absorb, so feel free to take these calculations and explanations with you. Click the button below to get your free eBook!